If you are anything like us, you find a lot of satisfaction in being organized. Having a dedicated spot for everything, especially when you are on-the-go, makes you feel in control and on top of your game. It doesn't hurt to be organized AND stylish, too! With these cute bags and totes, it's never been easier, more affordable, or more stylish to be organized. Here's a roundup of our favorite bags at More Than Paper, plus our organizing tips and tricks!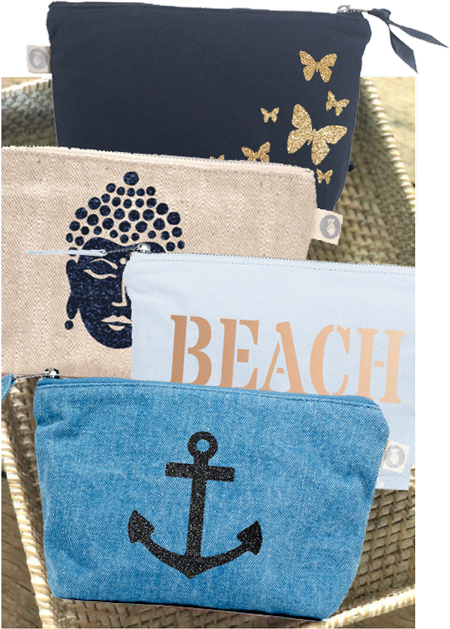 We can't get enough of these makeup bags by Quilted Koala. Choose from over 50 available icons and phrases, select the location and finish of your sentiment (including foils and glitters) and make it YOURS. They are water resistant and have zipper closures, so they are functional to organize your makeup.
Organizational Tip: How many eye liners do you really need? At least every six months, make sure to carefully comb through your makeup and ditch anything that is expired. Moreover, if you haven't used it in a few months, you can probably toss it, too. Less is more and it will make it easier to find the things that you do use.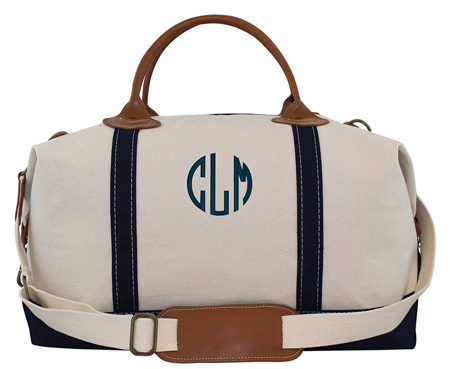 This affordable and roomy weekender bag is perfect for a business trip or an adventure with family and friends. With a top zip closure, inside zip pocket, and two standard size wallet pockets, organizing your weekend wardrobe is easy because there is a spot for everything. Personalize the trim color and your monogram, initials, or name.
Organizational Tip: Before you put anything in your weekender bag, lay everything out on your couch, bed, dining room table, etc. Start with what your plans are the first night, what you'll need for the next day, and visualize each outfit that you will need for each occasion. We tend to underestimate the need for comfy clothes and basics like T-shirts, so don't forget those things!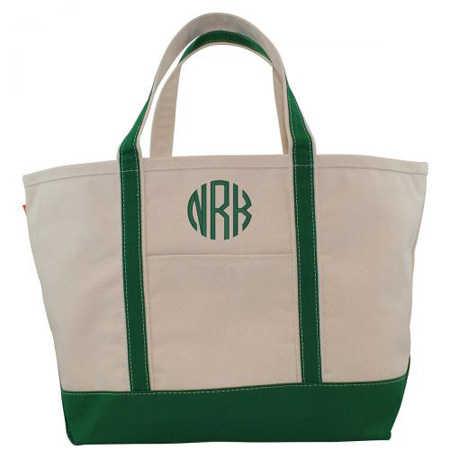 Whether you are going to the beach or on the boat, this large tote bag has a large capacity so you can fit towels, sunscreen, snacks, drinks & more wherever you go. It's sturdy canvas material holds up to being on the go often. The bag has a zip closure, so things aren't falling out and an easy access front pocket, too! At $29.99 each, this bag is also extremely well priced compared to other boat totes!
Organizational Tip: Planning makes a perfect day on the boat or on the beach. We like making a checklist. Do you have the kids' life jackets? Towels? Snacks? Drinks? Sunscreen? Bug spray? Toys? A bag to hold wet items? A checklist will come in handy. Also, try packing your boat tote the night before to save time and stress in the morning.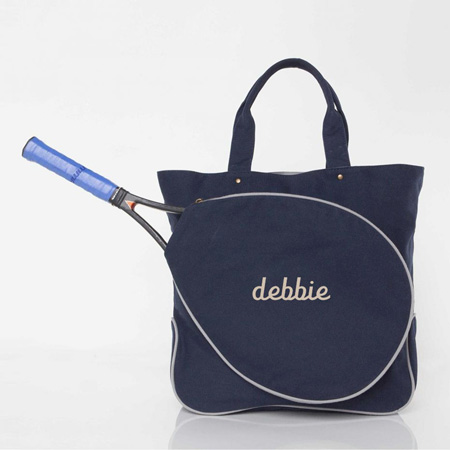 Tennis, anyone? This tennis tote bag holds a racquet in the front zippered pocket and has plenty of room inside for water, a snack, sunscreen, sweat bands, and anything else you may need on the court. Choose your own embroidery color and between black or hot pink (navy will be restocked soon!)
Organizational Tip: Zip lock bags are your friend! Inside your tennis tote, fill a zip lock bag with essentials like first aid, band aids, lip balm & personal items. Fill another zip lock bag with snacks like Cliff Bars or nuts. Storing like things in smaller bags inside your bigger bag can really help you in a pinch, especially when you are on the court and need it quick on a changeover!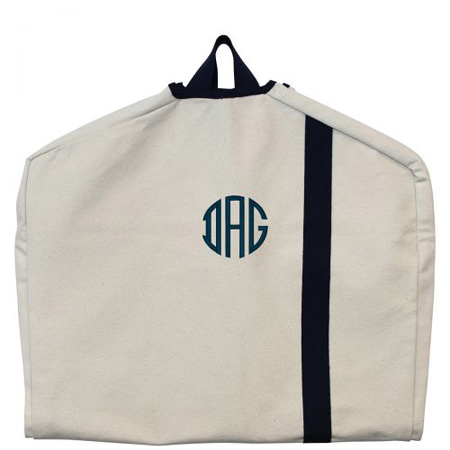 Protect your dress or suit with these personalized canvas garment bags. You never knew you needed one of these until you actually needed one. Whether you are getting on the plane to go to a wedding or an unexpected business trip, you will need a way to keep your duds fresh, clean & unwrinkled. This one holds up to 2 garments and has zippered pocket compartments.
Organizational Tip: When not in use, this doesn't have to go unused! Store your Sunday best or formal wear attire in this to keep it protected, all year long.
Wherever you go, we know you will go there in style and well organized!