Wondering what you should serve to your guests at this year's New Year's soiree? We have you covered! Treat your guests to some sweet and savory Turkey and Apricot Cocktail Meatballs and watch them fall absolutely in love! This is a recipe that we have been making for years. The best part is this delectable appetizer is quick and easy to make, so you can get on with your festivities faster than you planned! This dish takes around 30 minutes of active time and altogether around 60 minutes to complete. (These are great for making ahead of time and freezing for later use!)
Turkey and Apricot Cocktail Meatballs:
Ingredients:
Before you begin cooking up your decadent Turkey and Apricot Cocktail Meatballs, you have to prepare your ingredients. Below is a concise list of all the fixins you'll need to make this delicious appetizer. You can use a food processor to help you grate and finely chop the various ingredients!
· 1 cup coarse fresh bread crumbs – white sandwich bread is preferred
· 1/3 cup water
· A medium carrot – make sure it's grated!
· A medium onion – chop it finely
· 2T Avocado or extra virgin olive oil
· 2 lb of ground dark meat turkey
· 1/2 cup of dried California apricots – make sure they are finely chopped!
· 1/2 cup of chopped, flat-leaf parsley
· 3 tablespoons of apricot preserves – these preserves should be divided
· 1 ½ tablespoon of soy sauce – this should also be divided
· 1 tablespoon of Worcestershire sauce
· 2 large eggs – lightly beaten
· 1 1/4 teaspoon of salt
· 2 more teaspoons of water
How to Make Turkey and Apricot Cocktail Meatballs:
After gathering all of your ingredients, make sure to follow these quick and easy steps to finish making your Turkey and Apricot Cocktail Meatballs!
1. Preheat the oven to 350° – make sure the rack is in the middle!
2. Soak the breadcrumbs in water in a large bowl
3. Cook the carrot and onion –
a. Cook them in oil in a large, heavy skillet on medium heat
b. Stir ingredients occasionally until they are softened
c. This step should take about 10 minutes overall
4. Squeeze out any excess water from the bread and crumble
5. In a large bowl –
a. Add breadcrumbs, turkey, dried apricots, parsley, 1 tablespoon apricot preserves, 1 tablespoon of soy sauce, Worcestershire sauce, eggs, and ¼ teaspoon salt
b. Mix ingredients with your hands until just combined
c. Form mixture into small meatballs and pop them on a baking dish (a glass dish actually works best here despite our photos)!
6. Stir together water, remaining 2 tablespoons preserves, and remaining 1/2 tablespoon soy sauce and brush over surface of meatballs.
a. Bake until an instant-read thermometer inserted into center registers 165°F, around 30-35 minutes.
7. Let those puppies stand for 10 minutes before serving to your hungry guests!
Pro Tips:
1. Use a food processor to help with your finely chopped ingredients.
2. Make extra sauce for later – There's a chance you might want these as leftovers. If that's the case, freeze them and make sure to brush the remaining sauce over the treats before reheating!
After making your Turkey and Apricot Cocktail Meatballs, you'll need a classy and functional way to present your masterpiece! What better way to share your delicious appetizers with your guests than on one of Boatman Geller's Ardon Charcoal Personalized Melamine Platters?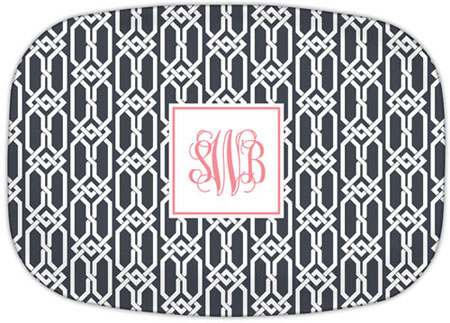 These adorable platters are customizable -- from all of the accent colors to the font.
Another great accessory to include at your New Year's Eve party this year are personalized cocktail napkins! We recommend a napkin that is just as classy as it is festive. Try the Wreath Letterpress Napkins by Chatsworth!