The holiday season is around the corner and those that get ahead will get to enjoy the festive time without the stress. Are you starting your holiday card search? Ordering your holiday cards early will certainly put you ahead! Our luxe holiday cards by Crane are currently on sale. Now is a great time to order!
Stationery and holiday cards by Crane are a go-to for stationery lovers. What makes Crane so special? We've dug a little deeper. Here's why:
The history is rich.
The history of Crane is over 250 years in the making! That's right. 250! In 1770, entrepreneur Stephen Crane founded the business and purchased the Liberty Paper Mill. Paul Revere was one of its earliest customers and Crane printed the American Colonies' first paper money. It's evolved over time but has remained deeply rooted in tradition. The Queen famously used Crane Stationery!
The secret is in the printing. Not necessarily the paper.
People often mistake Crane being known for incredible paper, but we feel the true magic is in the printing process. (Don't get us wrong, their high quality paper made from cotton feels luxe in your hands, but other manufacturers do tend to have heavier papers. It's not just about the paper in our eyes - it's more about the meticulous craftsmanship which really stands out in the printing!)
Crane's multiple printing processes allow for cards to really stand out from the crowd. Some of their cards when examined closely are truly exquisite. Many of Crane's cards are a composite of multiple printing techniques, and some of the most artful printing methods that exist. Your Crane card may have engraving, thermography, letterpress, embossing, foil stamping, or digital printed. It may be a combination of several of these techniques!
Here's a closer look at the possible techniques:
Engraving: Truly an art-form, an engraved design is highly detailed and executed by a professional. This professional engraver carefully etches the design and/or text into a copper plate, known as a die. Ink is applied to the die and then the paper is delicately and precisely pressed between the die and a handcrafted counter to yield a beautifully detailed and raised imprint. The raised ink design is often intricate and you can typically see delicate indentation of the text and graphics on the reverse side of the cardstock. Engraving is especially beautiful with metallic inks like silver and gold.
Thermography: Less expensive and faster than engraving, thermography somewhat mimics the look of engraving, although the ink is typically has a slight sheen. Thermography uses a polymer plate to transfer ink to the top of a paper. Then a resinous powder is added to the wet ink. Lastly, heat is applied activating the powder which results in a beautiful raised ink.
Letterpress: Developed in the 15th century, this process is labor and time intensive. Prints are made one at a time with each print having its own variation. Details and type are set in reverse on a plate - so really the opposite of engraving. Plates are inked and pressed into paper, usually through a printing press. Your text and designs will look indented into the paper - which is traditionally a cotton letterpress stock. Crane's Lettra paper is not only used by Crane but by many, many other printers in the industry. The soft fibers make it a perfect medium to absorb the inks during letterpress printing.
Blind Embossing: The process is like engraving because a raised image is produced using a copper plate, but no ink is used leaving a more understated and classy impression.
Digital Printing: Practical and cost effective, digital printing is a form of flat printing. There are no raised letters or plates. Ink is "sprayed" onto the paper rather than imprinting it. If you are having Crane print your family photo onto your holiday photo card, that photo will be digitally printed. While many printers offer digital printing these days, the combination of Crane's state-of-the-art printers and beautiful smooth, bright papers makes for a dazzling result.
Want to see an example? Take this Crane holiday greeting card, "Merry Ornaments." This card uses engraving and embossing on the cover and thermography printing on the inside. Look up close at the beautiful details!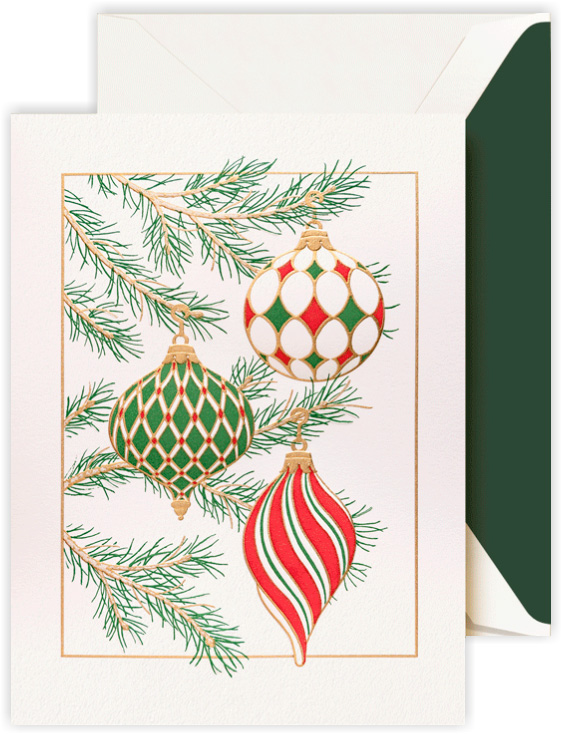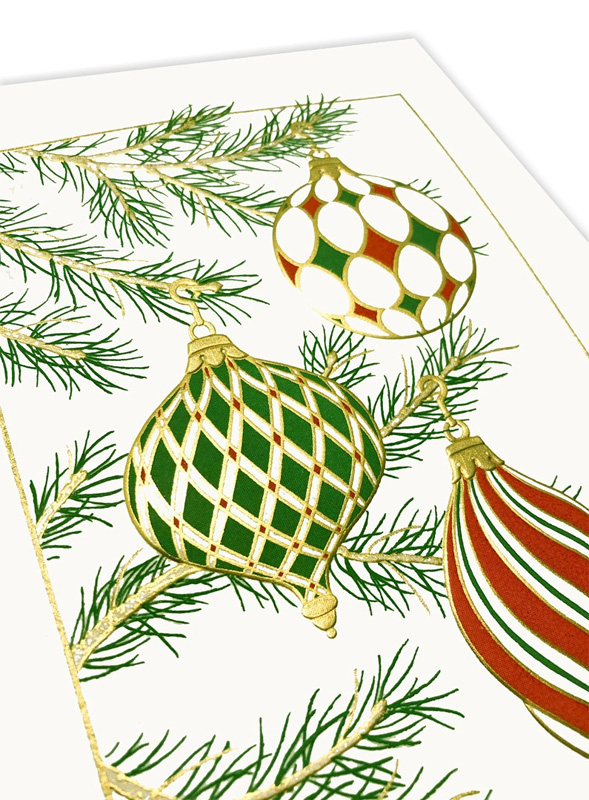 Here's another example of this beautiful combination of printing in "Surprise Snowstorm Holiday Greeting Cards." The bronzed and silver engraved with blind embossing winter scene depicting deer in the woods is a perfect holiday greeting.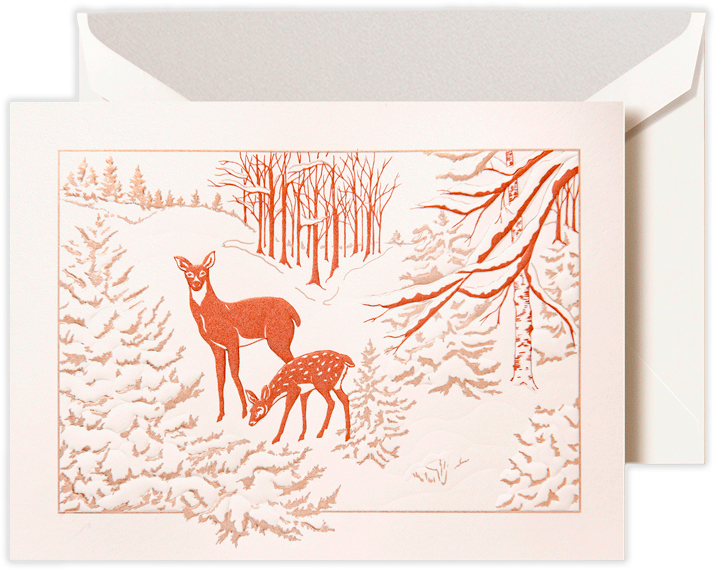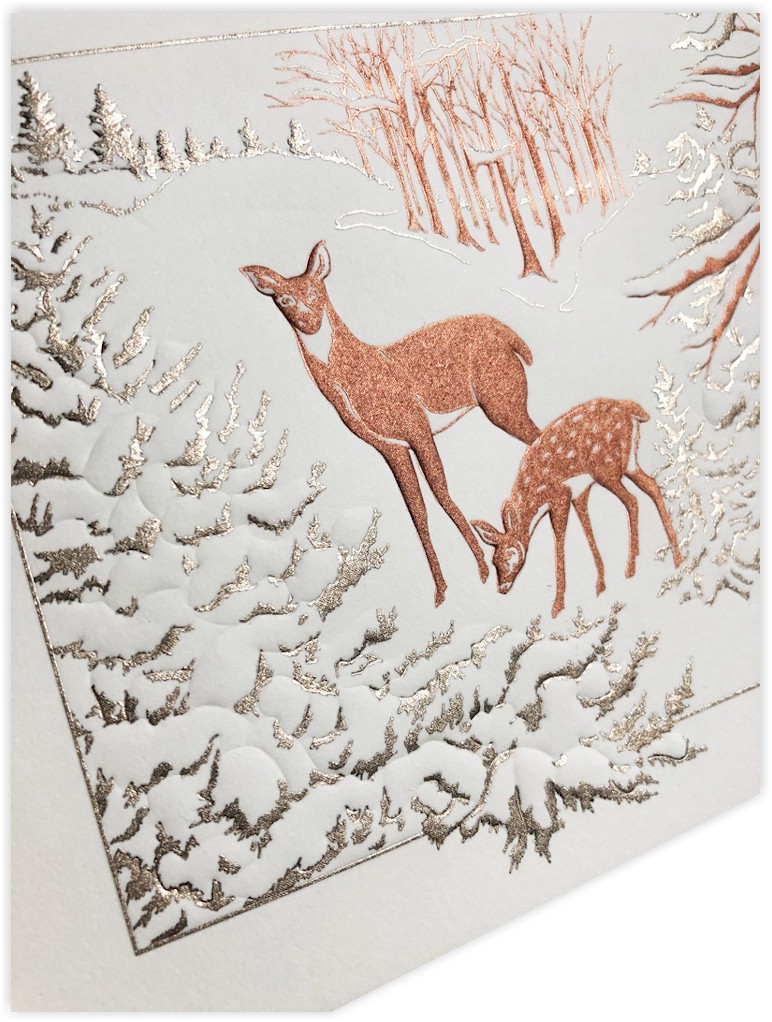 This intricate Crane holiday greeting card, "White Christmas Church" has exquisite detail. Intricately engraved and embossed, your holiday greeting can be printed inside with thermography printing to give it a personalized touch.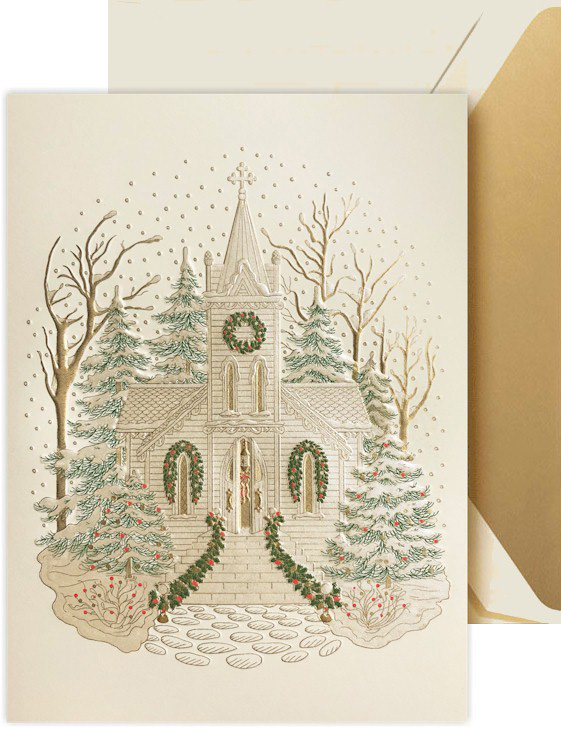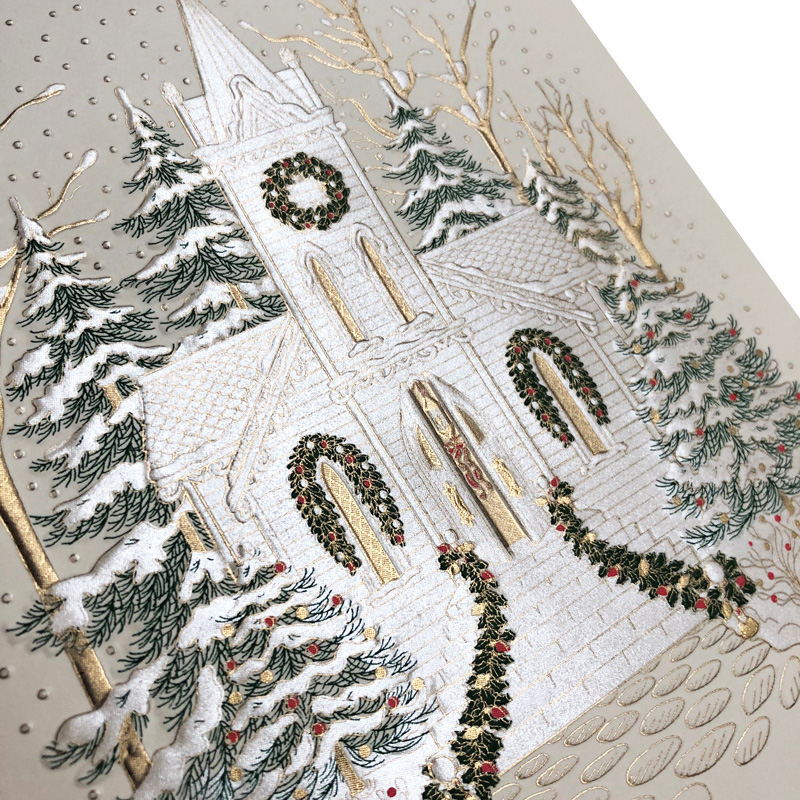 Aren't they beautiful? We have clients that frame their Crane holiday greeting cards each year - they are truly works of art!
We so appreciate the time and attention to detail that is used to produce these cards and hope you can, too. Seeing them in person really makes one say "wow!" Get your orders in soon so that you can take advantage of our sale - and get your cards in time for the holidays. As always, Debbie is available to help you design your one-of-a-kind masterpiece. Feel free to reach out for help!