It's a wonderful thing to have traditions that get passed on from generation to generation, especially food ones. Learning how to make a dish from your grandmother, for example, will always be treasured in your heart. Long after she has gone, you can honor her memory and relive time spent together just by making a dish.
In many families, gefilte fish gets made and served on Passover, but we know of at least one family who has been serving it for Rosh Hashanah for generations. Whether it is your tradition or you are looking to start a new one this holiday, check out this recipe we adapted from Food.com.
Photo credit: Lisa Larvey via
Chow
Ingredients:
6 lbs white fish (weight of the whole fish)
6 lbs yellow pike (weight of the whole fish)
3.5 lbs carp (weight of the whole fish)
2 large Spanish onions, peeled and sliced in wedges
1/4 cup salt (separated)
1 cup of sugar (separated)
1 tablespoons matzo meal
4 eggs, lightly beaten
fresh ground white pepper or black pepper
Directions:
1. Ask your local fish store to remove all the skin and to fillet the fish, reserving the bones and heads for you. Also ask for an extra head (it will improve the broth).
2. Put the fish heads and bones into a large wide pot along with 1/8 cup salt, 1/2 cup sugar, and one onion (cut into wedges). Cover with plenty of water and bring to a boil.
3. Meanwhile, finely grind the fish with one of the onions in a grinder (you can use the grinder attachment of a mix-master).
4. Transfer the mixture to a bowl and add the remaining salt, sugar, matzo meal, eggs and pepper. Mix well and let sit.
5. Prepare the fish balls. Keeping your hands moist with cold water (we like to keep a bowl of water close by to dip the palms of your hands before getting the batter each time), form oval spheres to the size of very large eggs (they will expand slightly when cooked) and drop them carefully, one by one, into the pot with the fish bones. The water should be kept at a slow simmer as you continue to add the fish balls.
6. After all the balls have been added, simmer for 1 hour and 45 minutes partially covered (we use tin foil to cover half of the pot). Add additional water as necessary so that there is enough liquid to keep the balls afloat.
7. The key to good gefilte fish is to taste the broth at various intervals. We recommend tasting at 45 minutes and then again 45 minutes later. The broth should be tasty, not too salty and should be sweet. Add salt and sugar as needed to the broth. Keep adding and tasting until the broth tastes just right.
8. Remove from heat and let the fish balls cool slightly in their liquid.
9. With a slotted spoon, remove the fish balls to a serving platter.
10. Strain the cooking liquid. Pour it over the fish and refrigerate until cold (overnight if possible - we prefer at least two nights prior to eating). The liquid should gel a bit.
11. Serve the fish cold with beet horseradish. We love this
recipe here
.
Make the tradition even more personal with this personalized platter by Boatman Geller available at our store, More Than Paper. Find other things you'd like to have for entertaining this holiday season at More Than Paper including great hostess gifts, items for entertaining, and cards for the Jewish New Year (on sale now!)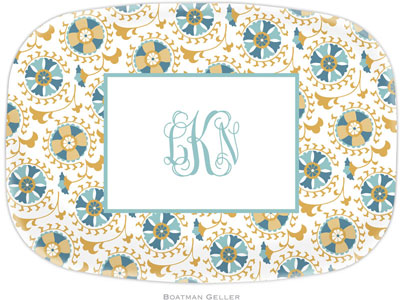 What are your family traditions? We'd love to hear about them in our comments. And don't forget to share this recipe on Facebook or Pinterest with your friends!