A Backyard Event
After many of us have been isolated for months, we are slowly starting to re-emerge into society. In many parts of our country, social distancing is still a thing. But we are craving interaction with others and a great way to do that safely is by spending time together outdoors. Summer days, especially those that end with a nice evening breeze, are perfect for outdoor dining. To help you prepare for your next fabulous backyard event, here are some tips and tricks for making entertaining easy!
A Theme & Décor Sets the Mood
Pick a theme that incorporates a unique color scheme and summer nostalgia. Establish your theme by planning each detail ahead of time. Having a playful theme will help you determine what you will use to set the table, what time of day is right for your outdoor dining experience, and, most importantly, what your guests will be eating and drinking.
Have fun when deciding your decorative colors, the event name for your invite text or invitation, and even the dinner playlist that will get everyone excited. Find music that will really set the scene for a memorable meal. You might choose oldies, French jazz tunes, summer hits, or an ambient chill playlist.
For family gatherings, think bright colors. You can go with patriotic pastimes and get into the red, white, and blue. Plan a poolside dinner with pink flamingos and large monstera leaves lining your patio. You might prefer French country styles with blue and white everything. For a low-key party of adult friends, you may want to stick to neutral tones, like beige and creamy peach hues. You could even bring a splash of energy to a simple sophisticated set-up with some fresh lemons to provide a yellow accent.
Stock Up
Set up a well-stocked bar area. Throw plenty of extra drinks in the cooler to keep everyone hydrated. Fill the cooler with drinks for the kids, including bottled water, soda or flavored sparkling water. Mark a section for adult beverages only. Next to your cooler set-up, have koozies, bottle openers and an ice bucket on deck. Just wait until the last minute to add ice to your custom monogrammed ice bucket.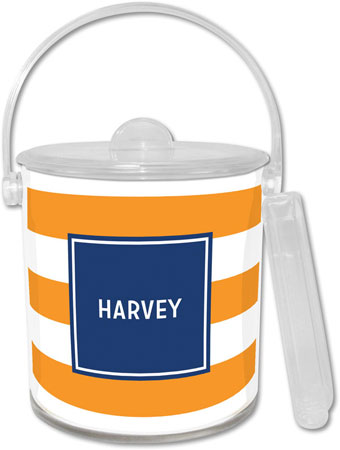 Incorporate fresh colors and your evening's theme into the decor by selecting a matching tablecloth, linen napkins and choice dishware. Skip the glass to avoid items crashing onto the patio and breaking. Instead, opt for a lightweight set of dishes. Consider personalized melamine plates customized to complement the colors of your patio furniture.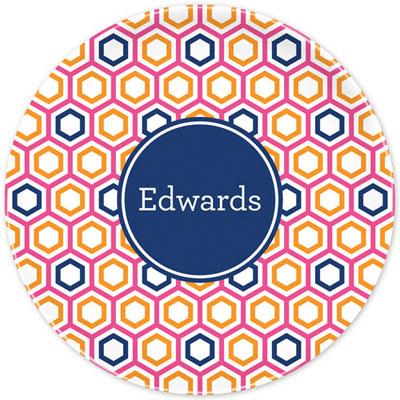 Serving trays and cutting boards are great for transporting a group of items that need to go outside. You can use your lucite Dabney Lee trays to bring out items for setting the table, then later load up the trays with food at meal time! These melamine platters not only add color to your table, they are great for serving food as well – especially side dishes!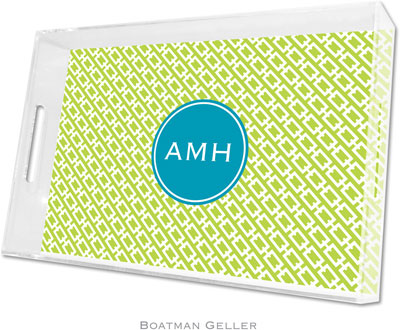 Just Grill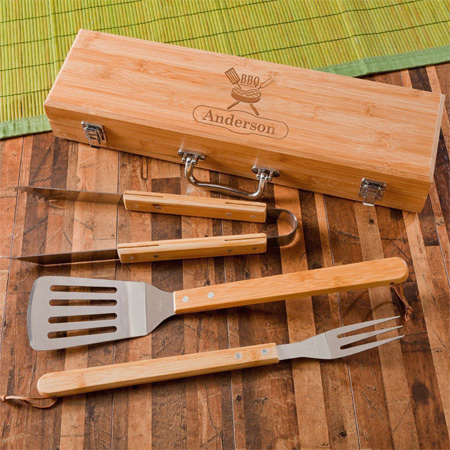 Prepare the grill station for the family's favorite BBQ chef. Have all of your grilling tools ready for business. Use a practical grilling set that includes all the necessities: tongs, fork and a spatula. Station aluminum foil, a roll of paper towels and some mesquite spices nearby. Really get into the BBQ mood by making sure your cook is outfitted with a perfectly cheesy "kiss the cook" style apron. Bonus points if the sassy apron has the grill-master's name front and center.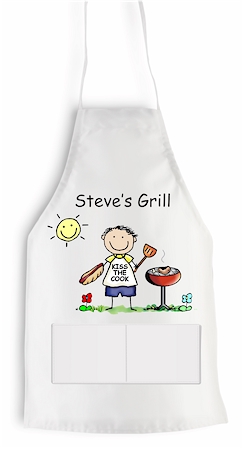 Light It Up
Have a plan for lighting: Consider using decorative lanterns, twinkle lights, or tiki torches depending on your backyard aesthetic. Some small white candles can add romance to an ordinary patio table. There is nothing quite like the ambiance created from the soft light of candles. Citronella candles are a great added touch to keep the bugs off your guests.
Outdoor entertaining has all the festivity of a meal out but with the comforts of home. Start planning your theme and table setting for the next holiday or event on your calendar. Whether your invite list includes the family or your favorite friends, you are sure to have a wonderful night once your patio table is set to impress.