Alternative Camp Ideas for 2020
I think we can all can agree that 2020 has thrown us an incredible curve ball. Never before have plans and the future seemed so uncertain. People are thrown from their normal routines. School was a challenge no matter which way you sliced it. Many vacations are completely cancelled. You can't fly to Europe. Some of us still can't work inside the workplace (though some people aren't complaining). Everything is so….unknown.
One of the hardest pills to swallow (for us) is that summer camp has been cancelled. At More Than Paper, we are huge advocates for sleep away summer camp! Our children have attended for many years, we attended when we were younger, and we even still have involvement in camp today. All of this has not only hurt our hearts but also our business. We provide camp stationery, post-cards, clothing labels, trunk tags, and seal and sends. Have you seen all that we have to offer for summer camp?

We generally see the glass half full and do our best to make lemonade with lemons. That's why we're here today with ideas on how to make an alternative to sleep away summer camp at your home this summer. Here are 5 tips for at-home camp!
5 Tips for DIY AT HOME Summer Camp
Tip 1: ESTABLISH THE RULES
The first key to success is establishing some rules and guidelines that feel like camp. Choose the dates that you are running camp. During those dates, consider a household ban on electronics. That means no phones and no tv/movies, unless planned for movie night as your evening activity. One of the things we love about sending our children to summer camp is that they get the chance to unplug all summer!
Tip 2: MAKE A SCHEDULE
Similarly, make a schedule. At camp, you have a designated wake-up time and bedtime. (We miss revile and taps already!) Plan out your daily activities in blocks of time with the kids. Soccer, Lacrosse, Arts & Crafts are easy to do at home (and you can even try getting help with some virtual options like this one: www.craftswithamanda.weebly.com). You can even establish a play to work on and have drama. Have the children write their own play or search online for scripts that you can replicate. Depending on your age of your kids, you can participate in these activities too.
Tip 3: PLAN YOUR MEALS
Meal planning makes everything easier, especially if you are planning a camp. What are your children's favorite meals at camp? Consider reaching out to their camp for the recipe. Whether it's sloppy joes or oreo cream pie, they may be happy to give you the recipe or you can look it up at improvise. Does your children's camp have canteen in the evening? Can you replicate it at home? Get creative!
Tip 4: CREATE EVENING ACTIVITIES
As part of your scheduling and planning, get input from your children about their favorite evening activities and put them on the agenda. Whether it's "Sing" or "Carnival", they can get excited about recreating some of the magic at home. Nothing has to be fancy. Your living room CAN be transformed into a stage for talent shows! Use old Halloween costumes for dress-up and performances.
Tip 5: KEEP SOME TRADITIONS ALIVE
Anyone who has been to camp knows that traditions are what make camp --- well….. camp! How can you keep some of the traditions alive? Whether it's "giving out fuzzies" to announce a good deed of one of your "campers," singing songs impromptu, or having a family color war – we're confident you can bring some camp traditions into your home. You could even consider getting an autograph pillow and having everyone sign at the end. Be sure to take pictures throughout. These are memories that you are creating that you will want to remember forever.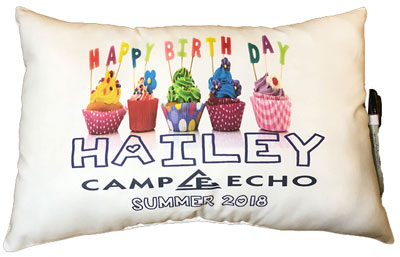 Though 2020 has had its challenges, we know there are many people who are also finding ways to be grateful and see the silver lining. More time at home with our families is definitely on that list. While we all have major FOMO on summer camp this year, with a little creativity and planning – you can make memories at home, too.
Post any pics of your at-home camp to our Facebook @morethanpaper!