A Very Holiday August
It may only be August here at More Than Paper, we can already hear Carol of the Bells playing sweetly in the background, feel a warm fire by the Christmas tree, and imagine wrapping presents for our loved ones. Keeping traditions alive, we're also thinking about sending our holiday greeting cards. We're offering a big sale on select holiday cards that you might want to check out. It's true that the early bird does get the worm, after all. If you are willing to order early, you can save quite a bit of money on adorable cards. And, you'll get a jump on the holidays. One less thing to do come November and December.
Which holiday card is right for you?
There are several types of holiday cards available at More Than Paper and we're here today to explain the differences between them. Each type has its advantages and you'll want to understand the nuances so you can get exactly what works best for you.
Digital Holiday Photo Greeting Cards. When you select a holiday card with this option, we will digitally print your photo on to the card – no need to get prints and adhere your photos to the cardstock. Your photo will be cropped to fit the space dedicated to the photograph. Some photo cards accommodate a full bleed photo, which means that your photo prints card edge to card edge. Other cards will incorporate your photo into the design. Your photo should be of the highest resolution possible, so make sure to set your camera accordingly. You'll want to email your photo to us – please include your order number so we can easily match it up. These types of holiday cards work best for a quick solution! Your cards will come ready to mail – just insert the cards into your envelopes and seal shut. You can choose return address printing, labels, or snag a cute return address stamp, too.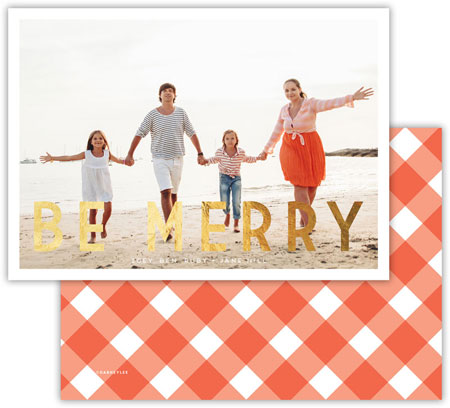 Letterpress-printed Photo Mount Cards. Choosing a letterpress-printed card is a beautiful and luxurious option for your holiday greetings. The design along with your personalized information are letterpress printed on to 100% cotton paper available in different weights (110lb and 220lb). The end product is a luxurious feeling card that has a debossed look (meaning the ink looks pressed into the paper) typically in 1 or 2 colors (each color requires a separate pass on the printing press thus there being a cost associated with each color added). When ordering these as photo cards, they are only available as photo mount – you affix the proper size photo to the dedicated area. This option is suitable for those who have a bit more time and enjoy the project! It makes a memorable statement.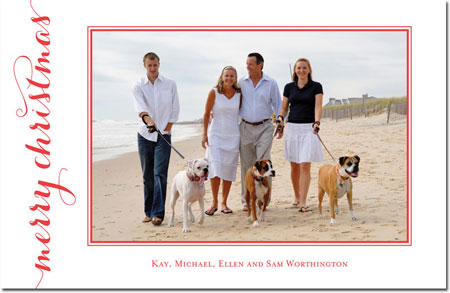 Holiday Cards with Foil. Foil is all the rage and adds a real sparkle to your holiday greeting and photo cards! For most designs, you can choose the color of the foil – from traditional gold and silver to other fun foil colors like rose gold, red, hot pink, green, blue, and white. Foil stamped embellishments/text can be used in conjunction with a digitally printed photo as well as with the traditional photo mount option where you use adhesive strips provided with the holiday cards to affix your photo.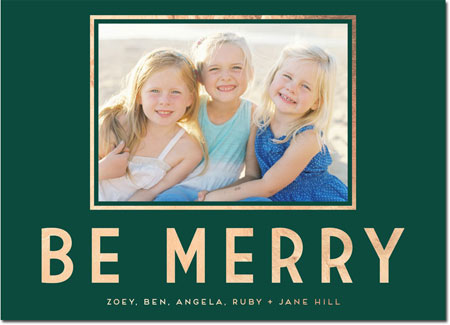 Holiday Greeting Cards. Prefer sending your holiday cards without photos? We have dozens of options with beautiful designs. From whimsical to formal and everything in between! Our Holiday Greeting cards are offered in a variety of print methods from digital to thermography to foil stamping. We also carry many Boxed Holiday products which are cards printed with a greeting only inside ready for you to hand write your signature. We have a huge selection of holiday greeting cards ensuring that there is something for everyone's taste and budget.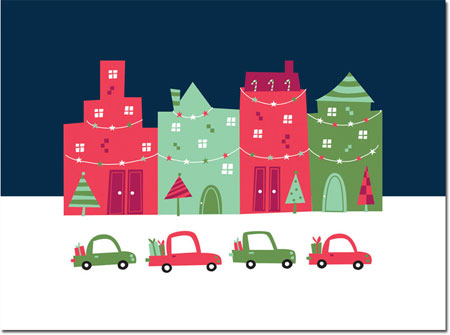 Worth explaining are the differences between flat and folded. Stating the obvious, a flat card is in fact, flat, and doesn't open. Sometimes there are printing options on both sides (back and front.) A folded greeting card opens up with your message on the inside.
Additional options that add style and whimsy to your ensemble are things like envelope linings. We love to highlight one of the colors in the card design again by choosing a coordinating lining. Larger address labels – typically round or square in shape – add color and design to the back of your envelope and double as an envelope seal!
Whatever your style is this 2020 holiday season, More Than Paper has a wide variety of options. Check out the current sale with holiday cards from Boatman Geller, Dabney Lee and Chatsworth and take advantage of this incredible discount that doesn't happen often and likely won't be seen again in 2020.
Have questions? We pride ourselves on our customer service and attention to detail. We're happy to speak with our customers to guide them through the process and to develop a card ensemble that is unique and well coordinated. Contact us at info@morethanpaper.com or by phone at 516-466-1227.