There was plenty of heartbreak and disappointment in 2020 due to the pandemic and all of the events that were cancelled as a result.
One of those disappointments was that many of our children were not able to attend sleep away camp – something that they look forward to year after year and hold so close to their hearts.
Since many missed camp in 2020, camp for this summer is more anticipated than ever. Camp Season 2021 just might be the best summer yet, and we're sure they're really going to appreciate being there!
More Than Paper prides itself on being a provider of a lot of really great camp gear! Not camp gear like flashlights and sleeping bags, of course, but the fun stuff like camp stationery, laundry bags, shower caddies, personalized pillowcases and things to make packing easier – like accessory labels and clothing stamps! Here's a roundup of all the things we love for summer camp 2021.
1. Fill-in Camp News Notepads. For any parent who has sent their child to camp before and received no letters home, this one is for you! Now there's just no excuse. These fill-in pads prompt your camper to write a letter and give you actual information about bunkmates, the food, favorite activities, the weather, and more. You'll get real information from you camper. Wouldn't that be nice? They also come with envelopes and include free personalized return address labels for your camper. We recommend you pre-address and stamp a few to yourself and Grandma and Grandpa.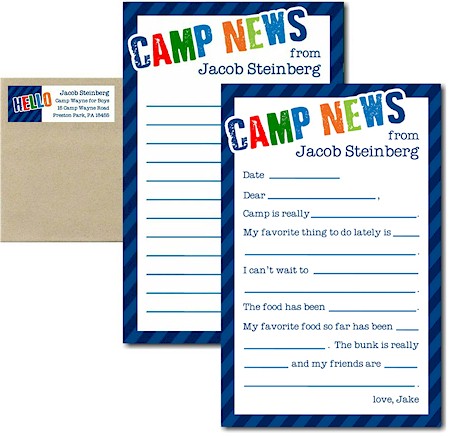 Want more? Here are some other great camp notepad sets to consider here!
2. Peel & Stick Clothing and Accessory Labels. If you've sent your child to camp before, you likely know the pain of writing your child's name with a laundry marker onto every single item of clothing. Or perhaps you've ironed on labels to everything they own. Finally, there's a solution that doesn't require ironing or writing names over and over again! Meet these peel & stick clothing and accessory labels. These include 90 labels and can be used for clothing but also things like goggles, flashlights, sports equipment, toothpaste, shampoo bottles and more. You can choose your own background color, too!
And if you want to reflect your child's style, there are many with patterned backgrounds too! Visit those here.
3. Clothing Stamp. Another alternative to iron-on labels or laundry markers is the clothing stamp. It is a self-inking fabric stamp with a permanent imprint. Perfect for labeling the bottom of white socks! The ink lasts for hundreds of washes so you don't have to worry about fading while the kids are at camp!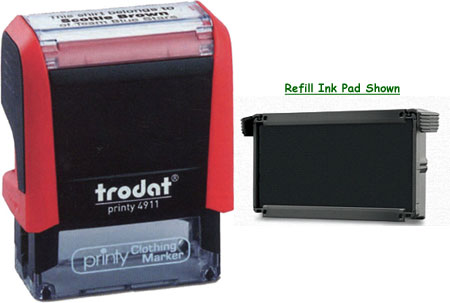 4. Clipboard Cases. Personalized and practical - when rest hour comes around and it's time to write, these clipboard cases are perfect! The case opens from the bottom and they can store stationery, pens, postage stamps and accessories. You get to choose the case color and background image, as well as supply the name. The background options are adorable, and kids will be encouraged to break this out and write a letter home!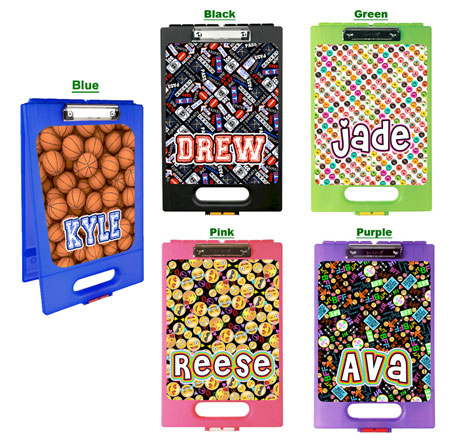 5. Water bottles. Another fun accessory to send your camper to camp with is his/her own personalized water bottle. We love these options shown here. A water bottle at camp is a must! Make it cute and easy for them to spot against everyone else's water bottle.

6. Shower Caddy. We are all about convenience and this personalized shower caddy allows your camper to organize their shower toiletries and conveniently carry them back and forth from cubby in their bunk to the shower house!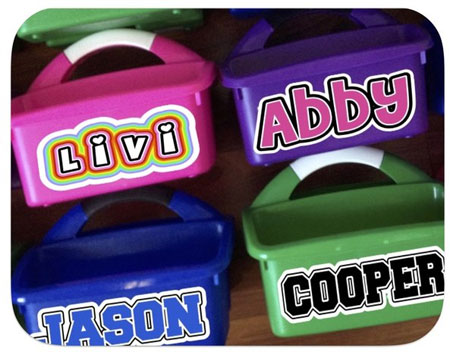 There you have a few of our favorite camp products for the Summer of 2021. Your camper will be organized and ready to go in-style. We can't wait for this summer and to make it great. What about you?
Share your favorite products for camp on our Facebook page or leave a comment here on our blog. Is there anything that we are missing that you find helpful when sending your kids to camp? Have you bought something before that you would recommend? We'd love to hear from you!