We've never appreciated how valuable teachers are more than we do today. The pandemic threw many of us into a home-schooling reality that we never thought we'd face. We were stretched thin, our patience was tested, and the pressure was on. Fortunately, for a majority of American students and their families, children are back in the classroom inperson. As parents, we couldn't be more relived and also grateful. It's clear that the debt of gratitude we owe these special people – our teachers – is a large one!
We will always advocate for a heartfelt, thoughtful note to your child's teacher. As a parent, take a moment to reflect on the year's ups and downs. Be specific about the growth that you have seen in your child, what he/she enjoyed, or how he/she overcame a challenge and has flourished. Teachers appreciate knowing what specifically they did to contribute to the growth of their students. Sometimes a tangible example of how they affected change can be really powerful. Take a few minutes to really think about the impact this teacher has had on your child's life and be sure to write it down thoughtfully. Of course, More Than Paper has plenty of stationery options from which to choose when you are ready to write your note!
We also suggest that your children take a moment to write thank you notes to their teachers. (We have personalized stationery options for kids, too, of course!) This handwritten note from your child can mean the world to the teacher! The same advice applies --- have your child be specific about the school year and what he/she enjoyed in the class.
Beyond a thank you note for teachers, consider small tokens of your appreciation. More Than Paper has a few gift ideas that teachers will find delightful and useful. All of them are affordably priced, and we love that they are personalized. Of course, many teachers love the slew of Starbucks cards they receive but these heartfelt, personalized gifts for teacher will really speak volumes. Here's a round-up of some of our favorite teacher gifts.
1. Make a statement with these teacher appreciation banners. These indoor/outdoor vinyl banners are available in three sizes and are customizable with the teacher's name and students' names as well! The banner is waterproof and comes with adhesive, removable tape for easy hanging. We also have upgrades available with stakes and grommets for other ways to hang! Imagine your teacher walking into school with this large, customized vinyl banner displayed for all to see.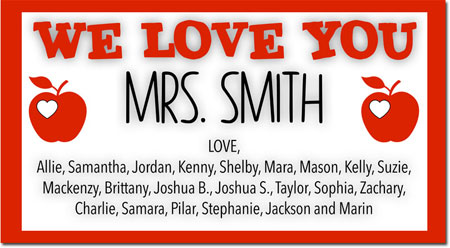 2. Teachers are constantly needing to jot down reminders, write notes home to parents, and take notes. This notepad is an adorable way for your teacher to do all of that. "From the desk of" personalized notepads make a great teacher's gift.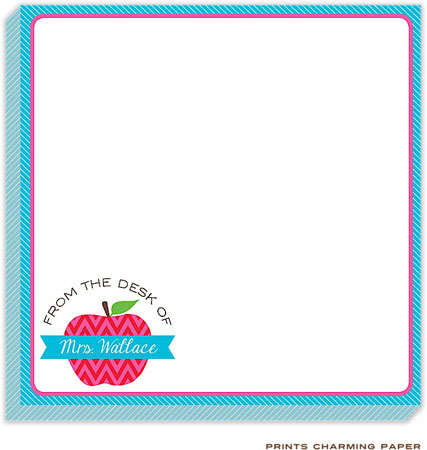 3. If you are a teacher and you don't have a mug with your name on it with an apple, are you even a teacher? Kidding, of course! If your teacher hasn't been gifted a fabulous, personalized teacher mug yet – consider these ones by Pen and Hand. They've been a top seller of ours for years! And in addition to personalizing the mug with the teacher's name, you get to choose the hairstyle, hair color and skin tone to make the stick figure character in the teacher's likeness. What fun! For added sweetness, fill the mug with candy, wrap in cellophane and tie with a ribbon.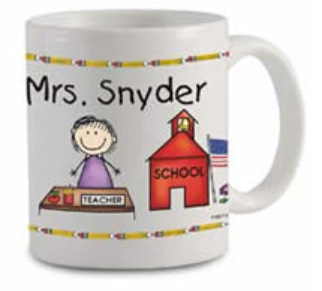 4. Consider a stylish and handy personalized clipboard when choosing a year-end teacher gift. We love all of our clipboard options but especially this design. This is a fun and functional gift that we love.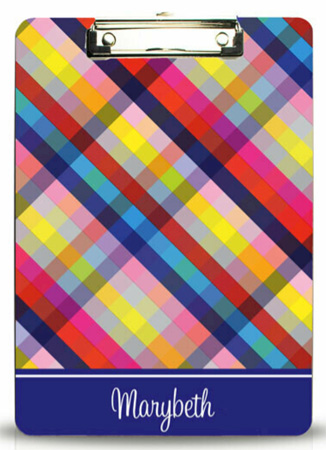 5. Another great idea is a personalized bookmark for your teacher! From your English teacher to your librarian, these personalized bookmarks for teacher are a great gift for the end of the year.

Hard to believe how fast this year is flying by. We hope you'll consider these unique ways to honor teachers. Teachers spend many waking hours with our children and have the power to shape their minds, their personalities, and the course of their life. We appreciate and thank all the teachers!