It's that time of year again! Whether your child is graduating high school or college, they still deserve to be celebrated. There is no better way to celebrate your child than with a graduation party! The final months of spring leading into summer are definitely one of the busiest times of the year. From Easter to Mother's Day, there is hardly any time to plan a graduation party for your loved one. It's easy to be overwhelmed by the thought of planning an event, but good thing, More Than Paper has all of your graduation party needs covered.





The first step in planning any event is creating a guest list. The most important thing to consider when making a guest list for any event is deciding how many people you are comfortable with hosting. Once you decide on this number, it's time to start talking to your grad about who they want to be there on their special day. After making the guest list, it's time to start mailing those invites! When mailing invitations to any event, you want to make sure you encapsulate the purpose of the event you're hosting. What better way to showcase your child's graduation celebration than with one of More Than Paper's wide variety of trendy graduation invitations?





We suggest that picking one of our photo invitation options to showcase your child's stunning senior pictures. We have a wide variety of options from which to choose when deciding which invitation works best for you! Each of these invitations allows you to customize the text to make sure all your loved ones get to the event at the right time and place.





After sending out those invitations, the next step in planning a graduation party is decorating. More Than Paper has a variety of festive decorations and party favors to make your child's graduation party one for the books! Here's an insider look at our favorite graduation party decorations and gifts!





We suggest taking your party planning to the next level with our Graduation Hat banners! These banners are the perfect addition to your child's graduation party get-up. The Graduation Hat banners come in two different fonts to choose from and allow you to showcase your child's school colors! These banners come in three different size options ranging from Mini (12' x 18"), Small (16" x 18"), and Large (30" x 55"). You can hang these banners inside or outside with either the included adhesive removable tape or the two upgradeable grommet options.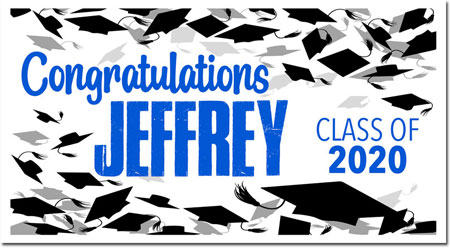 What's a party without refreshments? No matter what you are serving, you have to keep those drinks cold. Try keeping your refreshments cold with our College Little Bin. These customizable tin bins are the perfect and practical decoration for your event. To customize these bins, just select the name and colors of your graduate's school and their name. The rest is history!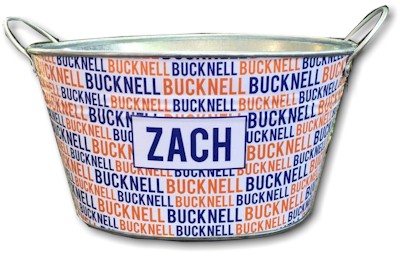 Serve up hors d'ouevres and treats with these custom napkins. These napkins can be personalized with your graduates name and come in a wide variety of colors to choose from.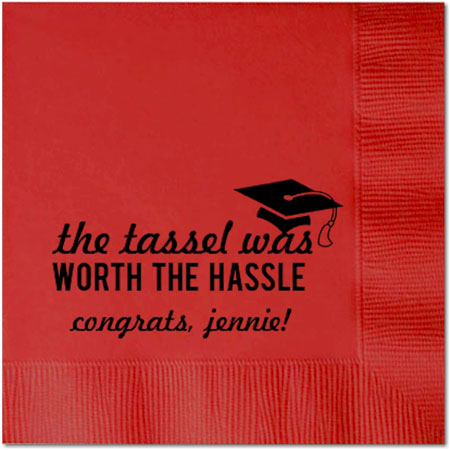 Once the decorating is done, it's time for the party favors! One of the most attention-grabbing party favors is a reusable cup for your guests. Our Congrats Reusable Cups are the perfect take-home item for your guests. These cups can hold 16 oz. and are completely shatterproof, making them the perfect celebration item. These reusable cups are customizable and come in a wide assortment of colors to choose from! P.S. they're dishwasher safe (which may be the best part).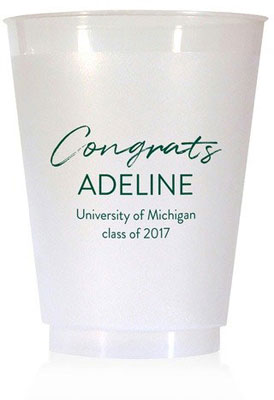 The last (and perhaps most important) step of throwing a graduation party is sending out thank you notes to your guests. What better way to say thank you than with our Gold Graduation Thank You Note Card Stationery? These thank you notes have a classic design and come in a set of 20 cards and envelopes. These cards allow you to send a personalized thank you message to all of your guests.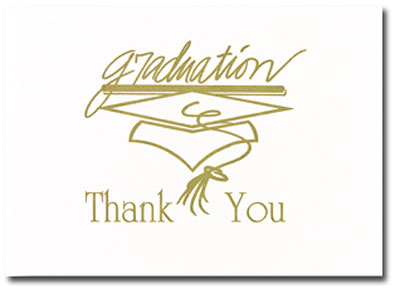 Graduation is one of the biggest milestones in your child's life. We hope these suggestions help you make it even more special. You can click here for even more graduation items and gifts. More Than Paper wishes a huge congrats to all the 2021 grads!