Over the last decade, high school graduation rates have climbed into the high 80s and low 90 percent across the country. It's a sign our education system is headed in the right direction. About 38% of our U.S. population aged 25 or higher has graduated college or another higher education institution, which is a sharp contrast to 1960 when it was just nearly 8% of the population!

There are many barriers to education (the expense being one of them!) and to earn your high school diploma or your college degree, one must work really hard. There are no short cuts. There is no easy button. For these reasons, we think all graduates should be celebrated in a big way. Note though, that a "big way" doesn't mean expensive gifts. Here are thoughtful ways to show your graduate that they are celebrated.

1. Host a graduation party. The party can be as simple as a dinner party with family and a few friends. Cook the graduate's favorite meal, bake their favorite dessert, and celebrate your graduate. What about putting together a slide show of photos to share with the group or pulling first day of every school year photos and organizing on a poster? If you are interested in hosting something larger and want some extra flair, consider personalized frosted cups for graduation and personalized graduation napkins to add special touches to your party. A party is a great way to show the graduate that you are proud.
2. Send graduation announcements. Graduates will feel honored and special when you formally announce how proud you are of their accomplishments! Sending announcements to family and friends is a great way to get the word out and inform loved ones about next steps, too. We have a huge selection of announcements for graduation. See many options here!
3. Get them ready for the next step. Did your graduate finish high school and are they headed off to college in the fall? Start getting them ready for the next step early. One of our favorite inexpensive graduation gifts are these buckets. You can fill with candy, gift cards to restaurants, books, collegiate apparel, and more. https://www.morethanpaper.com/EJ-LittleBin-UniversityBold.htm
4. Write them a thoughtful note.
We aren't talking about a last-minute card with your name signed on this one. Really take the time to tell your graduate how proud you are of him and how much you recognize her hard work. Pull out your finest everyday stationery (if you don't have, you know where you can find some!
) and start writing. We always suggest using specific examples rather than broad statements. "Chemistry and biology were tough subjects, but you showed determination and worked hard to achieve the grades you needed in those two classes. Remember that night you pulled an all-nighter?" This is an example of being specific. It's more personal than a blanket statement like, "You worked hard. Good job." This tends to resonate more with people and make them feel special.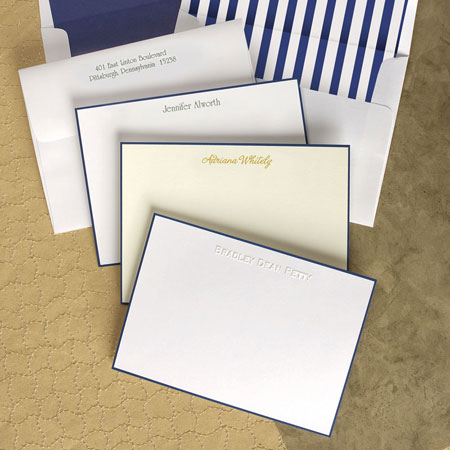 Graduation is certainly an accomplishment to be celebrated and we have plenty of ways to honor the graduate here at More Than Paper. What are your favorite ways to celebrate graduates? What about for students that aren't your own children? Are there gifts and ways that you honor others? We'd love to hear from you! Leave us a comment or write to us on our Instagram @morethanpaperusa or Facebook @morethanpaper