When you're young, there's nothing better than sleep away summer camp.
The sense of freedom and feelings of independence are unparalleled. Though it can be hard to send your children off to sleep away camp because you miss them, we take a lot of comfort in knowing it's their happy place!
We find that camp is an incredible place for children to grow, learn, and make lifelong memories.
Hearing from your camper through letters home helps make the heartache go away and gives us a window into their world. Receiving letters from your camper also gives you peace of mind. Are they eating? Are they sleeping? Do they like their camp bunkmates? What about their counselors? Are they visiting the health center to take their medication? (We've never gotten answers in a letter answering the last question...That one usually requires a phone call to the nurse!)
With all the activity that your kids are doing, how do you get them to slow down, stop, and write home to tell you all the fun that they are having? As parents, you are used to regular updates!
We try to make the letter writing process as easy as possible to encourage frequent letters home. Here are 6 tips we use:
1. Let them pick out camp stationery. Even if you have some extra left over from last year, having your children pick out a new design for 2023 will open the conversation and hopefully, get them excited. (We have some great new options to choose from below!)
2. Have a conversation and set the expectations. Be clear about how much it means to you to hear from your camper while they are gone and let your camper know how many times you would like them to write to you. You should be realistic about what's possible for your camper's age, attention span, and then: try not take it personally if the frequency isn't met. Afterall, they are there to learn independence and have experiences without you! Hopefully "no news is good news."
3. Create "to" address labels for your children. This is the single biggest tip we can give! Rather than giving your camper an address book where they must search for an address and then write/copy to an envelope, type out addresses to yourself, Grandma & Grandpa, Aunt, their friends, whoever wants to receive letters. Print on Avery labels (found at Staples or office supply stores.) When your child goes to write their letters at rest hour, they can look at the labels to see who they need to write to! If you are asking your camper to write twice a week, make sure you have enough "to" address labels to you for twice a week!
4. Include a diagram of how a letter needs to be set-up for successful mailing! While many parents like to pre-stamp and adhere return address labels to envelopes before the child goes to camp, we prefer to include a diagram with instructions on what to do – part of the growth at camp is learning to do things for oneself! Show the camper where the stamp needs to go and where the "TO" label needs to go. For the return address label, we recommend having the camper use it as an envelope seal on the back of the envelope. Using a postcard, they instruct the camper to put the return address label in the upper left corner on the side of the "TO:" stamp (or buy our personalized camp postcards that have the "FROM" address already pre-printed.
5. Get a pen or pencil and include it with the stationery/envelope/labels. Or let your child pick out fun gel pens in lots of colors. No excuses here!
6. We like clipboards or writing desks to help make the process even easier (at this point… is that possible?) and possibly more fun. Choose a clipboard that your son or daughter will like. Store everything inside (and then make sure they know that!)
Modern technology with facial recognition is pretty awesome. We admit, we check our "Waldo" app several times a day and wait in anticipation for the latest upload from the camp photographer. But it does not come close to a letter in the mail with details from our kids. Encourage your kids to write thoughtful, age-appropriate letters and remind them how much you want to hear from them. Of course, you can set a good example and write your camper letters. Tell them what's going on at home and ask questions. Become "penpals" while they are gone. We've got some great options for parents to use here: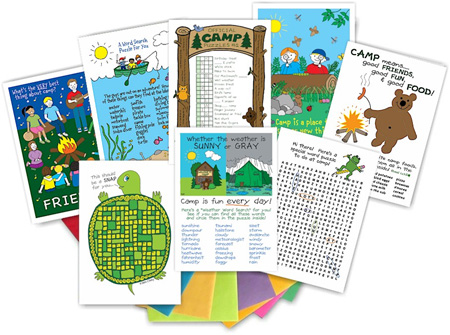 Here are some of our best-sellers!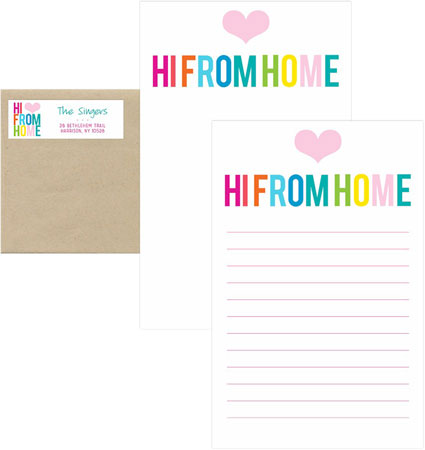 Prepping for your camper to head off to summer camp is a lot of work. We hope you hear from your camper on a cadence that makes you happy. Also, check out some of our favorite camp stationery sets for Summer '23!