Three dads – Joel Pritchard, Bill Bell, and Barney McCallum — whose kids were bored with their usual summertime activities created the game of Pickleball in 1965 on Bainbridge Island, a short ferry ride from Seattle, WA.
If it was invented in the 60s, you wouldn't know it.
Its rise in popularity seems to have hit a feverish pitch over the last few years. The growth has been exponential!
In fact, it's the fastest growing sport in the U.S. for the third year in a row and estimated that 36,000,000 Americans are playing it.
The commercial market for it is huge! In 2022, it was about $1.3 billion and expected to be a $2.3 billion industry by 2028!
Pickleball has clearly been embraced and, interestingly, embraced by people of all ages. (Reportedly, the fastest growing age group is under 24 – lest you thought it was for retirees!) People love how social and inclusive it is, how it does seem to be for all ages, and there's very little learning curve. All you really need is some hand-eye coordination and the willingness to learn (and a paddle, court, and balls!)

It's also probably best you find someone that is already into it, knows the rules, and can give you a few tips! The game is played on a badminton-sized court. It's most often played as doubles, though you can also play singles. Each side has a no-volley zone which is called "the kitchen" – no player can hit a volley from there. There a few rules like your serve must be underhand, the ball must bounce on both sides before either team can volley, and you only win points on your serve. You continue serving until you lose a point. The first team to 11 points wins, but you must win by 2. For more rules, follow this handy guide that we found online! It gives a great overview to the sport that does seem relatively simple.
Of course, More Than Paper has picked up on the trend and we are pleased to share that we have a variety of Pickleball-related gifts (joining in on that $1.3 billion dollar market!) These gifts are perfect for your teammates, your Pickle friends who are having a birthday or need a pick me up, or a great hostess gift when you are visiting a pickler. Here's a roundup of some of our favorite gifts!

From notepads to towels to cosmetic bags, we have the gifts that will make them smile.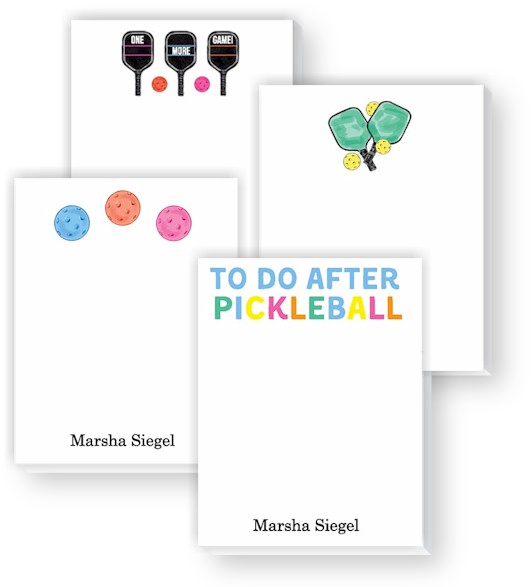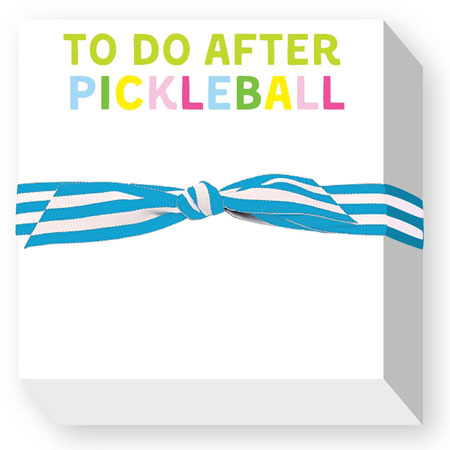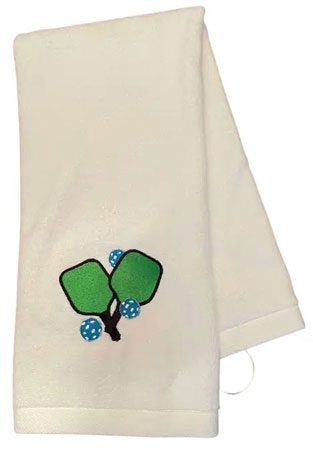 When it comes to Pickleball style, we have cute bags for the players on the court. Check out these Pickleball Bags.
This navy trimmed embroidered pickleball bag is a classy choice. It's made of heavy-duty, cotton-linen blend. It has adjustable straps on the cross-body style bag. Also very functional, the wipeable lined interior with zip pocket keeps your bag clean and organized!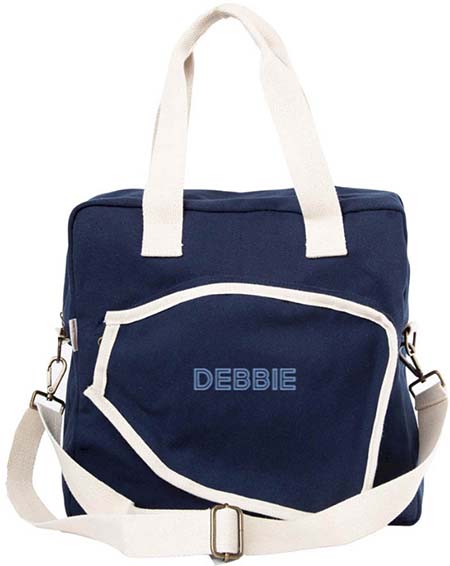 We also love this retro-style Pickleball bag! Personalize it with your name, initials, or monogram in a variety of typestyles and color choices. Visit here to see your options!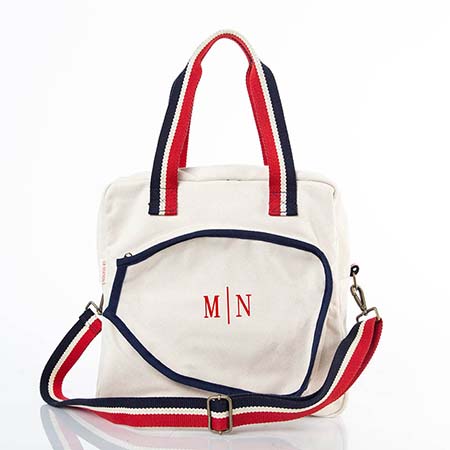 Drop us a comment in the comments section if you have picked up on this craze… are you a pickler? Have you fallen in love with the fastest growing sport in the country? We want to hear from you!