We can hear the unmistakable 4 musical notes signaling just one thing….. football! It's back and there's something about the sports season that brings such comfort and excitement to Americans. It's here and back in a big way.
Even if you are not a huge fan of one team or even the game itself, one can find joy in hearing player success stories, having your family and friends gathered on the couch, and we find that it is a perfect excuse to cook and entertain. What game? It's just another excuse for a party!
More Than Paper has you covered this Fall '23 Football Season with some fun food and décor items to keep it festive and fun for all your football entertaining.
What To Eat
Above all, we love serving sliders for football games. They are the perfect finger food and are substantial enough to make a meal of it. Everyone can graze along throughout the game. Have one, have 4 – whatever suits you! You can get creative with your sliders – they aren't just burgers, either. Here are some slider ideas:
- Chicken Parmesan Sliders
- Taco Sliders
- Italian Meatball Sliders
- BBQ Chicken Sliders
- Ham & Cheese Sliders
- Pulled Pork Sliders
- French Dip Sliders
- Buffalo Chicken Sliders
- Reuben Sliders
Other nibbles that we like to serve on game day are:
- Pigs in a blanket
- Sausage Balls
- Crab roll ups
- Pizza Puffs or Mini-Pizzas
- Little Smokies
- Chicken Wings
- Bacon crisp crackers
- Spinach Balls
And of course, what game day would be complete without chips/dip or veggies and dip? Ones that we love:
- Spinach & Artichoke dip
- Siracha Chicken Dip
- Louisiana Shrimp Dip
- 7 Layer Dip
- Greek 7 Layer Dip
- Beef Enchilada Dip
We love trying recipes out on Pinterest. Visit Pinterest and type in any of these menu ideas and you will find a host of bloggers ready to provide you with recipes. What will you choose?
Serving Your Food
We like to set up a football-themed table with football-themed serving pieces in the dining room, which is close to the game. There are all sorts of table runners you can score off Amazon. For serving dishes that are festive, try this one found at More Than Paper that work great for sliders and other big items.
Your personalized football plate will be used for seasons and you'll have fun pulling it out each fall. These platters are made from Thermosaf® resin and are shatterproof, microwave safe, dishwasher safe, oven safe for warming up to 300°. They are also BPA free, melamine free and made in the U.S.A.! Personalize it with your last name or initials or monogram.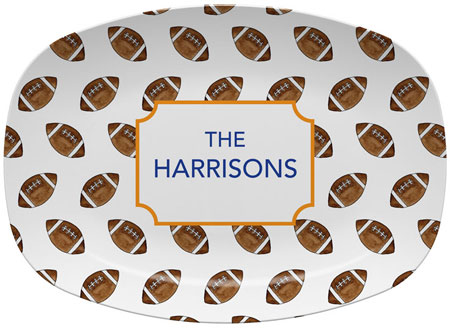 We also have this corresponding Lucite Tray available in small or large that work well for serving drinks!

You can really amp up your drink serving game and consider these foil-stamped personalized napkins with a football theme. Choose your team name or your own last name and get creative with how you personalize the napkins.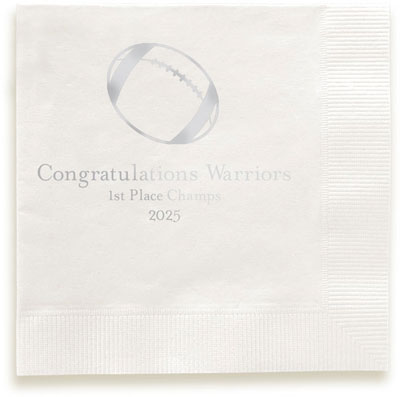 And how about some personalized drinkware to top off your decorations! These cups come in clear or frosted finish. The frosted ones are reusable and top-rack dishwasher safe so you can use them all season!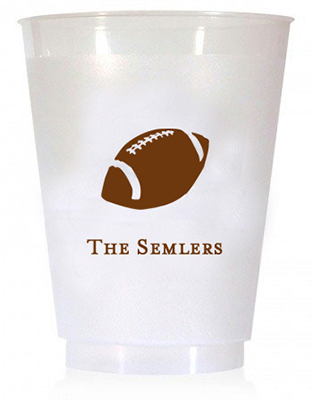 Be sure to check our website for football stationery and invitations, too. If you are hosting a football-themed birthday party or hosting a Superbowl party, you may want to send paper invitations that are more formal but still cute and festive. Check out all your options here.
Wishing you a great football season in 2023. Whether you are just there for the snacks and entertaining or you're a die-hard fan, we hope you embrace the season and all that it has to offer. Share your pictures of football entertaining on our Facebook page!