Photo greeting cards are a popular choice when it comes to sending holiday cards in the mail. They tend to be a less expensive option, and there are no shortage of styles from which to choose! Traditional, modern, whimsical, colorful… there's something for everyone! More than the design, what makes a really good photo greeting card? We think it is the quality of the photograph you place on the card! We also tend to think less photos can be a stronger statement than cramming a bunch of photos into a small card. That is, only if you have a really great photo!
Many people choose to hire professional photographers to capture the whole family. While we do love a good professional photo shoot, it isn't always budget friendly and sometimes it can be hard to schedule!
How can you get a winning photo to use without hiring a professional? We have a few ideas for you! These are general tips that you can use with just your Smart Phone.
Find a friend, neighbor (or go completely DIY)
First things, first. Ask your neighbor, friend, or neighborhood babysitter to come over and take some family photos. You'll need 15-20 minutes of their time. If you are unable to get someone, iPhone has a countdown timer that you can set. You can get an inexpensive tri-pod that holds an iPhone or Smart Phone on Amazon, too!
Plan your outfits
While matching outfits can make for a great photo, we tend to prefer coordinating colors and even throwing in patterns to give a cohesive but not corny look. Choose a color combination, such as khaki and blue, and look for shirts and pants within that. Jeans is always also a classic look. Another idea? Dress everyone in holiday pajamas!
Plan your setting
In almost all cases, photos taken with natural light is preferred. We recommend shooting in the evening, right before sunset and never shooting during the height of the sun. (Avoid the hours of 10 am – 4 pm). We love the idea of shooting photos around the Christmas tree at night, too. Turn off overhead lights, don't use a flash, and just use the light of the tree! You could also prepare hot chocolate and have everyone sitting around the table talking. Sometimes the most natural settings and actions can produce the most authentic photos.
Know Your Phone
Some basic advice but make sure to have your phone charged. Shoot in the right camera "mode." For iPhone, use the live setting so that you can work around closed eyes and funny expressions when editing. Try several using the portrait mode. Your exposure (amount of light that the shutter lets in) can be adjusted. On your iPhone at the top, you can adjust the exposure to let more light in if it's dark.
Edit or Not Edit
With high-quality cameras in our pockets and a plethora of online editing tools at our disposal, it is very easy to get a high-quality result. If you need to edit after the shoot, try Adobe Lightroom to brighten your photos. Remember that is almost always easier to make a photo brighter, you ca not easily make a bright photo darker (hence why it is best to avoid very sunny photo shoots).
In these apps, you can adjust the light and add filters that suit the mood. (We tend to shy away from the over-filtered look). Other photo editing apps to try are Snapseed, VSCO, Pixlr, and Afterlight.
With these simple tips, you are sure to have a great holiday photo to use for your holiday photo greeting cards! The hardest part will be choosing which card to use. Here are some of our recent favorites.
This Beloved Season Foil Pressed card has real foil and has the option for different die-cut shapes. A simple and festive message, this card has room for just one perfect photo!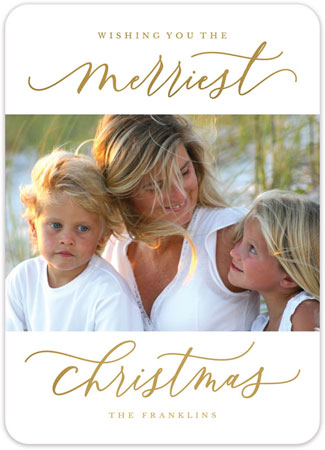 We also really like these "Fa La La" whimsical greeting cards that feature a full photo. They are available in 130 lb or 260 lb weight.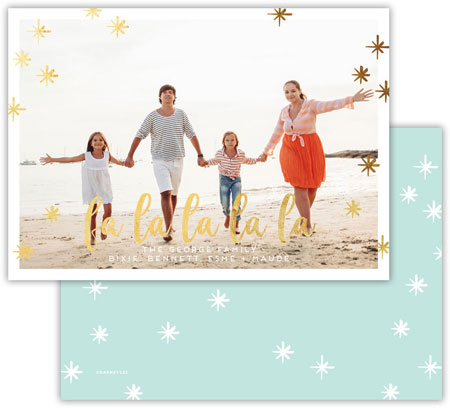 This card has an abstract "Merry" message that helps feature the photo that you choose.
- This card is also available with two paper weights.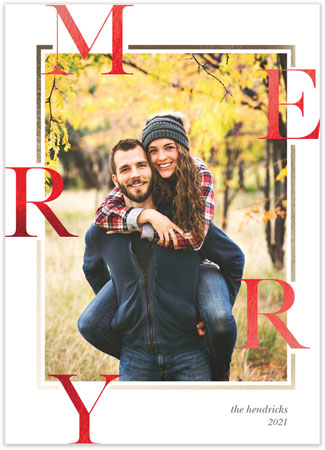 Finally, we have so many holiday photo mount card options – many with "create-your-own" features allowing you to specify the foil accent color as well as various background and trim colors.
One of our all-time favorites!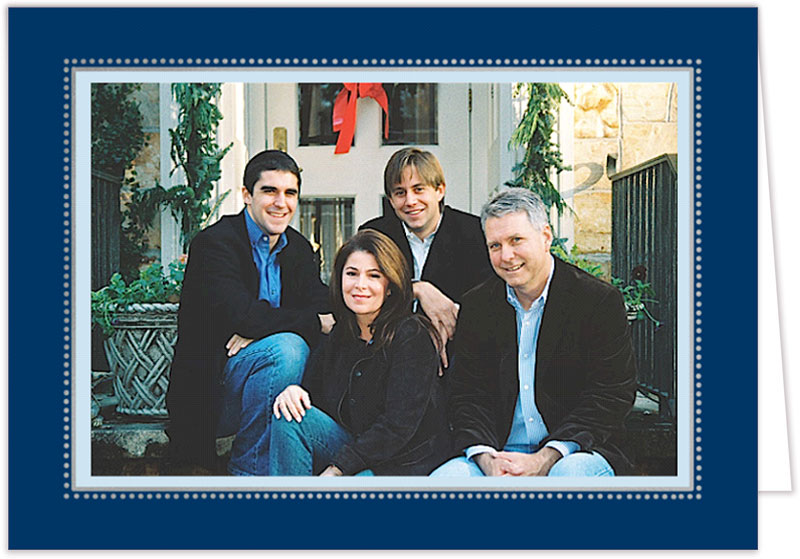 We can't wait to start seeing your photos and holiday card orders stream in! Remember, we can help you design something that perfectly complements your photo!