Mother's Day is a few weeks away and More Than Paper is here to give you some wonderful ways to honor Mom. While we think gifts are a great way to show her you care (and we have plenty of great ideas!) we'd like to take a moment to reflect on what this day should be about. It's not just about giving your mom a present. This Mother's Day, truly show her how much you appreciate her by going the extra mile. Make the whole day about Mom. If your mom doesn't live nearby, make sure you plan ahead.
Here are 6 things you can do this Mother's Day to show that you truly care.
1) Let her sleep in. Men with young kids at home -- are you reading? Your tired wife just wants some sleep. Wake up with the kids and take them for a walk, to Starbucks, to the gym...anywhere! Just let Mom sleep until 8:30 A.M. 10:00 A.M. would really be fantastic.
2) Make breakfast in bed. Men with kids at home -- are you still reading? This fantasy is one that very few women experience. Pull this off and you have bonus points for weeks!
3) Assemble photo collages. This one is a homemade gift that we just love. Get some photos printed and make a collage of photos on canvas, or in picture frames. Photos bring back wonderful memories of happy times and Mom is sure to appreciate them.
4) Pick flowers/buy flowers. There's just something about fresh cut flowers that makes a Mom happy. If you have a garden, spring should be a great time to pick a few. Be sure to put them in a vase for Mom -- the last thing she wants to do is cut and arrange.
5) Create a coupon book for services that you can provide that Mom can redeem later. Coupon examples include: a ride to the airport, free dinner cooked by you, dog walking, house sitting, unload the dish washer, fold the laundry, carpool duty, and many more. The trick here is to think of things that Mom does on a regular basis that is nitty gritty. She can redeem later when she needs a break!
6) Write her a note. Take a minute to write down a few words about why Mom is so special on your personal stationery. Think hard about what she does for you, special moments you have shared together, a difficult time she has helped you through, how she has been supportive in your life and write it down. It's something she will appreciate forever.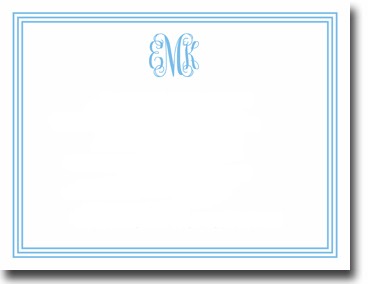 For gifts to show your appreciation, More Than Paper has you covered with a variety of ideas. We love luxe scents like Bulgari and the fragrant Dyptique Candles (worth EVERY penny!). Choose from a variety of monogram jewelry, personalized mugs and frames found at More Than Paper.
Find all of these products linked below! How will you celebrate Mom? Tell us your ideas here or share them on our Facebook page!
1) Rose Gold Monogram Necklace 2) Diptique Candles 3) Monogram Bracelet 4) Coffee Mug 5) Bvlgari Perfume 6) Mother's Day Picture Frame